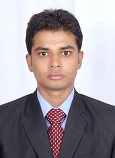 Mr. Jineetkumar Gawad
Lecturer
M. Pharm

Areas Of Specialization
Pharmaceutical Chemistry

Experience details
04 years

Interest Areas
Biochemistry 

Computational Chemistry

Pharmaceutical Analysis
Research & Publications
Publications – National: 13 International: 17

Conferences / Workshops / Seminars attended:
08 conferences are attended

Professional Memberships:
Life Member of Indian Society for Technical Education (ISTE)

Board Memberships:
Member of editorial board and reviewer panel for 09 journals including national and international.

Recent Publications:
Jineetkumar Gawad, Chandrakant Bonde. Infrared and Raman Spectroscopy in Diagnosis of Infectious Diseases. Asian Journal of Chemistry, 2017, 29(4); 703-706
Jineetkumar Gawad, Sachin Kolhe, Arun Patil, Pradeep Bawane. Development and Evaluation of Solid Self Double Emulsifying Drug Delivery System (SSDEDDS): A Novel Approach to Enhance Bioavailability of BCS Class III Drugs. Journal of Pharmacy Research, 2016, 10(6); 403-409 Impact Factor: 2.89
Jineetkumar Gawad Pritam Jain, Amol Mhaske, Suresh Choudhary, Chinmayee Samant. Simultaneous estimation of dexketoprofen and dicyclomine in bulk and in tablet dosage form using reversed-phase high performance liquid chromatography. Der Pharmacia Lettre, 2016, 8(1); 67-72

Gawad J.B, G Protein Couple Receptors: A Milestone in Health Research. Journal of Chemical Biological and Physical Sciences, 2016, 6(2); 561-567

Jineetkumar B. Gawad, Sanjaykumar B. Bari, Gopal O. Sugandhi. A validated stability indicating high performance liquid chromatographic assay method for simultaneous determination of citicoline and piracetam in tablet formulation. Der Pharmacia Lettre, 2015, 7(10); 254-261.
Official email id.
jineetkumar.gawad@nmims.edu

Office Phone No.
91-02563 286545