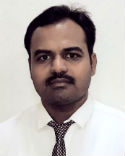 Dr. Ketan Hatware
Assistant Professor
M. Pharm, (PhD)

Specialization: Pharmacology

Undergone Ratification in Jawaharlal Nehru Technological University, Kakinada, Andhra Pradesh for the post of Assistant Professor.

Interest Areas
Neuropharmacology, Diabetes, Basic Pharmacological Research

Research & Publications: 8

1) 6 Research Articles published in National/International journals.

2) 2 poster presentations at APTI-Pune 2014, APTI-Indore 2015

Patent: 02 (Filled)

Conferences Attended: 3

Undergone National Level Faculty Development Programme in 2015 held at Vignan Groups of Institutions, Vishakhapatnam.

Official Email Id

ketan.hatware@nmims.edu