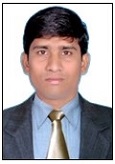 Mr. Kiran D Patil
Lecturer
M. Pharm

Areas Of Specialization
Pharmaceutics

Experience details
4.5 years

Interest Areas
Formulation and Development

Herbal Formulation

NDDS
Research & Publications
Publications – 01 (International- 01), Presentations- 01 (International- 01)

Awards
• Received fellowship by AICTE during M. Pharm

Conferences/Workshops/Seminars attended: (5 including National and International)
• Oral presentation at International Conference on Artificial Intelligence in Health Care, held at SPTM, SVKM's NMIMS, Shirpur Campus.

• Presented Poster in National Conference sponsored by APTI, Maharashtra on topic "Regulatory Affairs, Patenting and Future Prospects for Pharmacists",

• Presented poster in National Seminar PHARMAFEST at Baroda on the topic of "Formulation and Evaluation of Gastro Retentive Bioadhesive Tablet of Atenolol by Using Design Expert 8".

• Presented poster in National Seminar sponsored by AICTE on topic "Advance Trends in Phytochemical Investigation of Herbal Drugs".

• Attend National Seminar sponsored by AICTE at ARA college of Pharmacy Nagaon, on topic "Recent Advances in the Analytical Research".

• Attended 62nd International Pharmaceutical Congress (IPC) at Manipal, Dated: 17-19 Dec 2010.

Recent Publications:
Kiran Patil, Vijay Patil, Jineetkumar Gawad, Amol Mhaske. Development and validation of stability indicating reverse phase-liquid Chromatographic method for simultaneous estimation of Olmesartan Medoxomil and Metoprolol Succinate in bulk and in tablet dosage form, BIOINFO Pharmaceutical Biotechnology, Volume 2, Issue 1, 2013, pp.-014-018
Official email id.
kiran.patil@nmims.edu

Office Phone No.
91-02563 286545