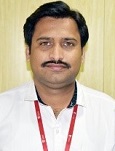 Mr. Meghanath B. Shete
Assistant Professor
M. Pharm

Areas Of Specialization
Pharmaceutics

Experience details
5.5 years

Interest Areas
Formulation and development. NDDS
Research & Publications
Publications – 02 (International- 02)

Awards
• Received fellowship by AICTE during M. Pharm

• Received merit based scholarship from S. R. T. M. University Nanded.

Conferences/Workshops/Seminars attended:(5 including National and International)
• International Conference on Artificial Intelligence in Health Care, held at SPTM, SVKM's NMIMS, Shirpur Campus.

• Attended One day national seminar on "Application of radiation and radiopharmaceuticals in healthcare" organized by SVERI's College of pharmacy Pandharpur in association of BARC-DAE and BRNS, Mumbai.

• Attended Two days State Level seminar on Current trends in Formulation development and regulatory Affairs at SGRS College of Pharmacy, Saswad, Pune

• Attended Three days' workshop on Establishment of Effective & Functional IQAC at Shree Vitthal Education & Research Institute.

Recent Publications:
Translation and Commercialization of Pharmaceutical scientific Innovations: An Overview in Journal of Advanced Pharmacy Education & Research. Jul- Sept 2013 Vol 3 Issue 3 
Applications of Solid Lipid Nanoparticle in Novel Drug Delivery System, British Biomedical Bulletin [2013] [1] [2] 103-118
Official email id.
meghnath.shete@nmims.edu

Office Phone No.
+91-02563-286545