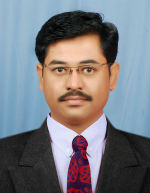 Dr. Parag Kulkarni
Associate Professor
M. Pharm, Ph.D.

Areas Of Specialization
Pharmaceutics

Experience details
12 years

Interest Areas
Formulation and Development

Novel drug delivery system

Multiparticulate Drug delivery system
Solubility enhancement
Particulate Engineering
Research & Publications
Publications - 12 including National & International

Presentations- 12

Academic activities
He has guided 21 M. Pharm. students for their research projects

Funded Research Project: -
Completed Project
Formulation and Evaluation of Fast Dissolving Drug Delivery System (2007-09 for Rs.2.00 Laks) was funded by BCUD, University of Pune.

Development and In-vitro Evaluation of Multiparticulate Sustained Release Oral Dosage Form (2009-11 for Rs.2.00 Laks) was funded by BCUD, University of Pune.

Ongoing Project
Docking & Synthesis of antiviral agents (2017- 2020) of Rs 32.50 Lacks funded by Indian Council for Medical Research (ICMR).

Conferences/Workshops/Seminars attended
Twenty five conferences are attended including national and international.
Professional Memberships
Association of Pharmaceutical Teachers of India (APTI) – Life Membership

Books Published
Pharmaceutical Engineering, Dr. Parag Kulkarni & Prof. Anjali Bedse. Thakur Publications. 5016-17

Recent Publications
Parag A. Kulkarni et al., Assessment of ludiflash as a superdisintegrant in formulation and evaluation of fast disintegrating tablet of febuxostat. DOI: 10.20959/wjpr20174-8277, Vol 6, Issue 4, 2017, 1576-1585.

Parag A. Kulkarni et al., "Spectrophotometric Estimation of Citalopram and Nortriptyline in Pharmaceutical Dosage Form", Ijppr.Human, 2015; Vol. 4 (4): 104-111.

Professional Lectures / Seminars delivered
Institute of Pharmaceutical Education & Research Pune, "Pharmacological effect, toxicity & Pharmaceutical Packaging" 2013

University Pune sponsored two days National seminar on "Good Cleaning Practices in Pharmaceuticals (GLP)" at Siddhant College of Pharmacy, Sudumbare, Pune. In 2014.

Office Phone No.
91-02563-286545, 46, 47, 48, 49 (Ext:108)

Official email id.
parag.kulkarni@nmims.edu