Report of the Industrial Visit

25/10/2015

An industrial tour for the First year students of B. Pharm and B. Pharm + MBA (Pharma Tech) was organized at Paithan plant of Ajanta Pharma Ltd. The visit was a one day tour from campus to Paithan and back. The visit was organized on Sunday, October 25, 2015.

The participants in the visit were…

37 students from B Pharm + MBA (Pharma tech) out of 39

17 students of B. Pharm out of 21 = Total 54 students

03 faculty members – Dr. Amit B. Page

Two buses of the campus itself (MH18-AA5775 and MH18-AA9388) were allotted for the said visit.

After having the morning tea at the boys' hostel we left for Aurangabad at around 6.00 am. As the breakfast was packed for the students, they had it in the bus itself. We reached Aurangabad at around 11.15am where the lunch was organized at Hotel Windsor Castle, Near CIDCO Bus stand, Aurangabad.

Mr. Abdul Hameed, Manager HR, Ajanta Pharma Ltd, accompanied us at the lunch. In an interaction with him he appealed students about being responsible for their deeds and be with a positive attitude. He added that sufficient professional knowledge is must to achieve any height in the professional career.

After the lunch we departed for Paithan at 12.45 pm. As the road was not good it took 1.15 hours to reach us in the plant at Paithan.

At the unit, we were welcomed by Mr. Pundalik Galphade, Asst. General Manager, HR, Ajanta Pharma Ltd.

Mr. Umakant Banait, Asst. Manager, QA, delivered a presentation explaining establishment along with major milestones in the development of Ajanta Pharma. He added that the Paithan unit follows all norms and conditions of good manufacturing practices and therefore is approved by USFDA, ENVISA, Brazil, WHO, Geneva, and other such peer regulatory authorities. In his presentation he gave a brief outlook about the processes and managements that are followed in dispensing, manufacturing, quality control, quality assurance, storage and shipment. The Paithan plant of Ajanta is manufacturing oral solids – particularly tablets, capsules and oral powders. Information of the daily output of the plant around 10 million tablets gave us an idea of modernization, speed, accuracy, and precision of the production.

After the presentation, students were divided in two groups for the round in the unit. In this round students were taken through storage facilities, manufacturing facilities, facilities for physical, analytical, microbiological quality controls, packaging facilities etc. and controlled areas for storage, modern machineries of manufacturing, labeling, packing. The visit was so exciting and interactive that it took us around three and a half hours to just have a look on available facilities. At the end after coming out of the company, students individually thanked the officials for permitting them to visit such an exceptional pharmaceutical unit. They also appreciated the School for organizing such an event, which will help them decide their path towards success in future.

With an expectation of more such industrial visits, we started our journey back to the campus at around 05.45 pm. The tour reached campus at 01.30am.

The tour was comfortable and entertaining except a tyre puncture near Aurangabad while returning.

Students' remarks on the visit: -

Thank the management for such an exceptional industrial visit.
There should be frequent visits to the industry.
Travels buses may be arranged as these are not that comfortable for a journey of 5 to 6 hrs.
It is better if sightseeing is clubbed with industrial tour and the tour is arranged for at least couple of days with a halt.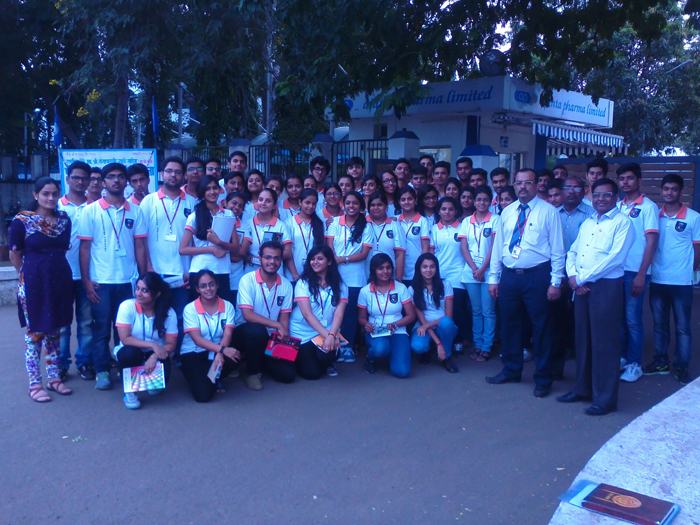 Report submitted by,
Dr. Payal Dande
Incharge Cultural Head
SVKMs NMIMS, MPTP, Shirpur Campus