Report on preparedness for International Yoga Day Celebration in SPPSPTM
SPP School of Pharmacy & Technology Management, SVKM's NMIMS has always endorsed the benefits of 'Yoga Day' in achieving 'BODY-HEALTH-MIND' wellness. Taking cognisance of the the stress encountered in the lives of its stakeholders i.e. students, faculty and staff, SPPSPTM has started an initiative to de-stress the students and members of faculty and staff. In recognition of the empowering ability of Yoga towards attaining happy and peaceful work environment, SPPSPTM encouraged each one of them to engage in Desk-Yoga.

In preparation of International Yoga Day on 21st June, 2019, the school propagated this initiative through intra-mail across all the staff and faculty members (see inset picture).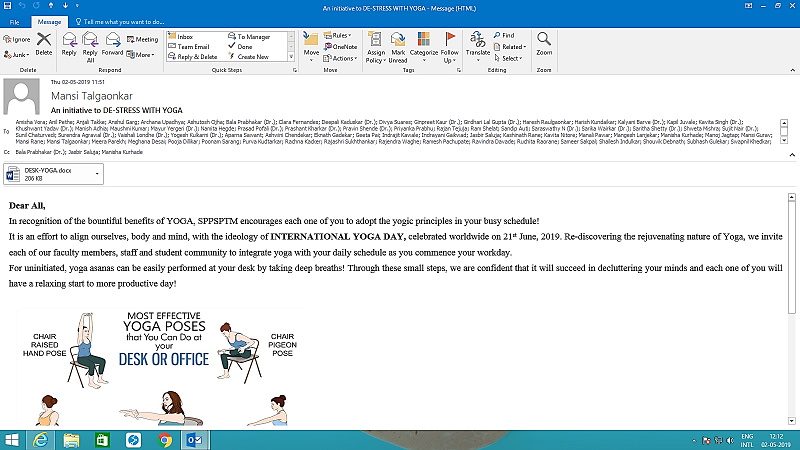 The initiative was well received by the staff- members, faculty and students who enthusiastically performed the yoga asanas at their desk. On this positive note, SPPSPTM looks forward to celebrate 5th International Yoga Day Celebration in SPPSPTM on 21st June 2019 with zeal and enthusiasm.