DIRECTORS MESSAGE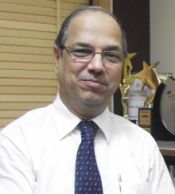 Dr. R. S. Gaud,
Director - Shirpur Campus, NMIMS
Dear All,
Greetings from NMIMS. Welcome to portal of first off campus of one of the premier universities in India - NMIMS University, managed by Shri Vile Parle Kelavani Mandal (SVKM).
Shri Vile Parle Kelavani Mandal is a Public Charitable Trust, registered under the Society's Registration Act and Bombay Public Trust Act. Since its humble beginnings in 1934, committed to the cause of providing high quality education at various levels.
Under the aegis of SVKM, Narsee Monjee Institute of Management Studies (NMIMS) has, over the last 3 decades grown from a management institute to a Deemed to be University (as per UGC Norms) in 2003, catering quality education in diversified fields at its headquarter - Mumbai. To meet the social responsibility felt by our Honorable Chancellor & A great visionary - Shri Amrishbhai Patel, first off campus at Shirpur was established in 2007 with the objective to impart quality education in the tribal area.
Shirpur Campus is antiquated, state of art, fully residential campus - Mukesh Patel Technology Park (MPTP) - on the banks of the Tapi river near Shirpur (Dhule - Maharashtra). The campus has been running various undergraduate, postgraduate, and doctoral programs in engineering, textile, pharmacy and management with a mission to ensure that our students are industry ready, can take on the challenges of a global market, and among the most desired by the best employers around the world or become entrepreneurs. We want them to be accomplished professionals in their chosen fields.
In this fast paced competitive world, conceptual knowledge, practical learning and the ability to innovate are the key focus areas of the campus with an emphasis on quality above all else. The quality processes have been highly appreciated by various regulatory bodies including the All India Council for Technical Education (AICTE), Pharmacy Council of India (PCI). Four of postgraduate courses of pharmacy school are accredited by the National Board of Accreditation, Govt. of India, New Delhi.
In a short span, our campus has made significant progress in the field of technical education, research and development. This has been achieved by outstanding student participation in various activities ably supported by highly qualified and motivated faculty, a world-class infrastructure and virtual learning system - Blackboard available at the campus, 24 X 7 access to e-brary and scientific wealth through wifi. Credit goes to our beloved Chancellor Shri Amrishbhai Patel and his team who made it possible. The university operations are fully computerized with the help of SAP.
Residential campus gives us flexibility to groom disciplined future professionals, nurturing their life values and hidden talents and strengthening their inherent good qualities. This includes co-curricular and extracurricular activities round the year. Sports also has its own place in the campus life of students with well-maintained courts, facilities and professional coaches. Soft skills & communication skills are the integral parts of the curriculum. We believe in the holistic development of our students.
All above has been proved by our graduates. Our alumni are well placed, accomplished professionals, affectionate about their Alma Mater, and always been a part of Campus's exaltation.
Wishing you all a very successful and knowledgeable Academic year 2019-20.